According to Content Marketing Institute's latest research (btw we love CMI surveys and use them regularly), nearly half (46%) of marketers surveyed are using interactive content. Their top reason for doing so? Engagement – followed by educating the audience, creating brand awareness, and lead generation.
The CMI conducted the same survey in 2016 and 2016 and below we will show you how things have changed in the usage of interactive content marketing.
The use of interactive content will continue to rise: 79% of those that use it say they plan to increase their use in the next 12 months (last year, 75% said they anticipated an increase).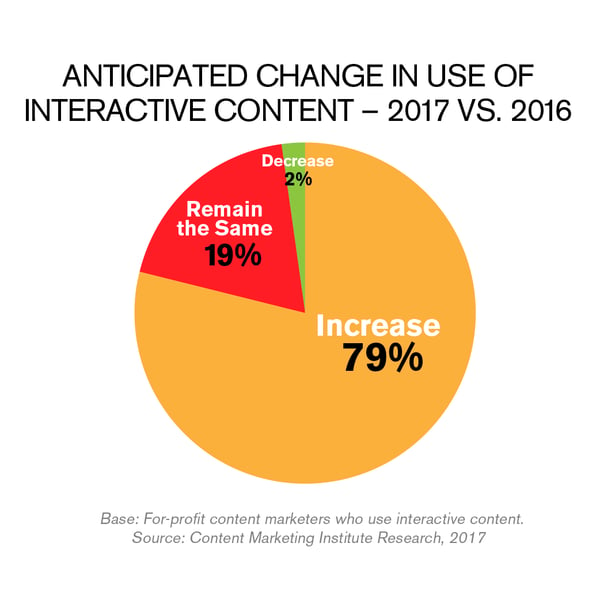 What types of interactive content are they using?

The most-used type of interactive content is infographics (52%), which also displays the highest growth in usage (18%) over the last year. Interactive infographics were followed by contests (which rated as the most effective type), calculators, quizzes, and assessments.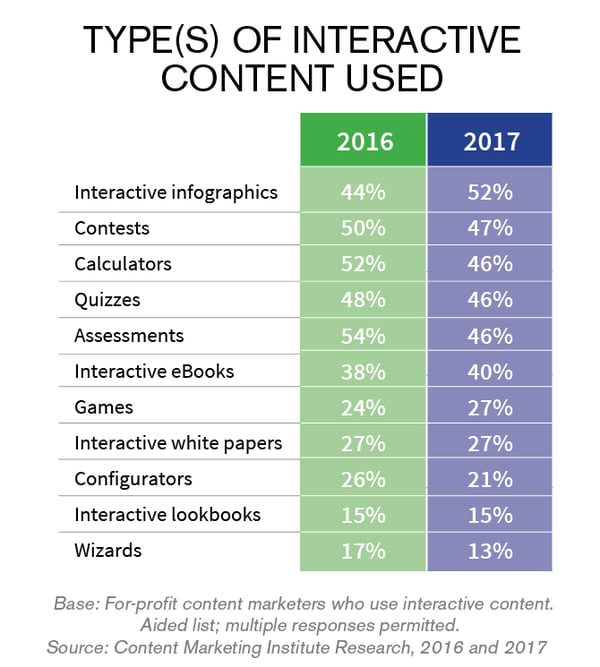 Check out the effectiveness of content types at different stages of the buyer's journey:
Games (77%) were rated most effective in the early stage (awareness/discovery).
Interactive e-books (54%) were rated most effective in the middle stage (consideration).
Configurators and wizards (tied at 33%) were rated most effective in the late stage (decision).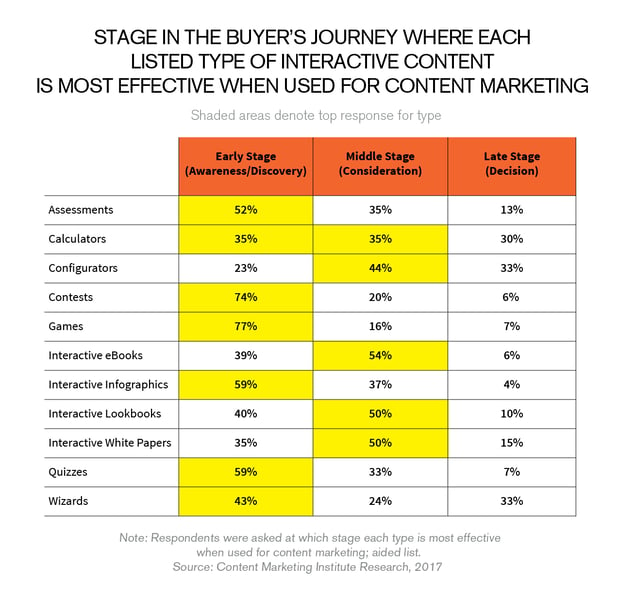 More time and budget might encourage use by non-users
The most-cited reason, by far for not using the interactive content is lack of staff/bandwidth (50%). Lack of budget comes in second at 39%.
What might encourage companies to use interactive content?
The top three reasons are:


Tools to simplify the process (52%)
Tools to reduce the cost (46%)
Tools to shorten the timelines (45%)


Are you using interactive content? If so, how's it going? If not, why? Please let us know.