All we hear these days is how important providing the best customer experience possible.
Do you know why?
Econsultancy conducted their survey for Digital Marketing Trends, they asked companies to state the single most exciting opportunity for 2018.

The results?

Customer experience (or CX) came in first (beating content marketing and mobile marketing!).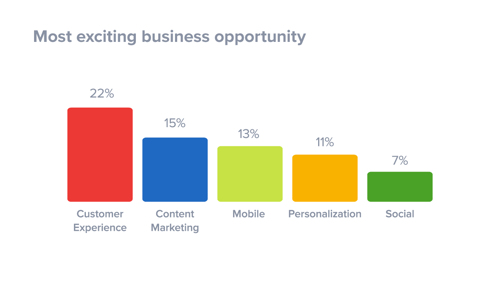 And according to a Walker study, by the year 2020 customer experience will overtake price and product as the key brand differentiator.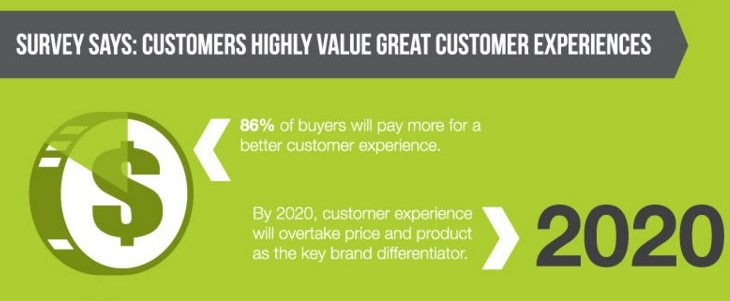 What is customer experience?
Customer experience (cx) focuses on the relationship between a business and its customers—every interaction, no matter how brief and even if it doesn't result in a purchase. Whether it's a call to contact center, a commercial on YouTube, or even something as mundane as the payment of a bill, every interaction between customers and businesses builds (or damages) the relationship, impression, and expectation of the brand. Most important, it's how customers view those experiences in aggregate that really matters.
All of the events experienced by customers before, during and after a purchase are part of the customer experience. When a customer is undertaking the experience it is seen as personal and unique, as well as it provides stimulation to all sensory, emotional, rational and physical aspects of which can help to create a memorable experience for the consumer of which they will never forget.
It doesn't matter what kind of business you're in – improving the experience for your customers is the key to increasing retention, satisfaction and sales.
Why improve customer experiences?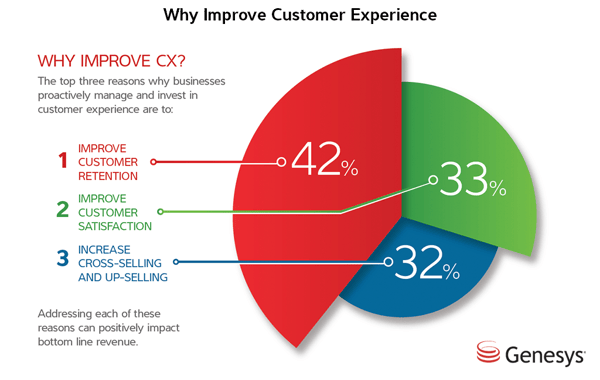 If you want your customers to stay loyal, you have to invest in the experience.
Customer frustration will lead to churn

What happens if you fail to provide positive customer experience?

Simple. Customers will be frustrated.

According to Esteban Kolsky, if the customers are not satisfied, 13% of them will tell to 15 or even more people that they are unhappy. On the other hand, 72% of customers will share a positive experience with 6 or more people.

67% of customers mention bad experiences as a reason for churn, but only 1 out of 26 unhappy customers complain.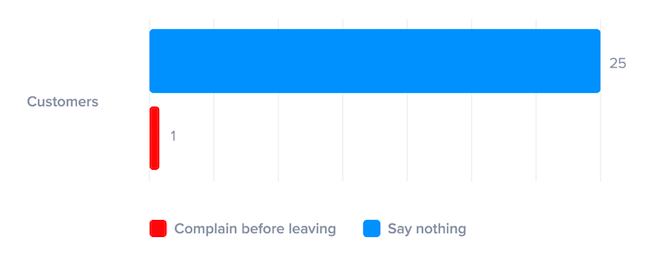 The lesson that we can learn here is that the absence of negative feedback is not a sign of satisfaction. Indifferent attitude to your customers might lead to them leaving and even worse –sharing the bad experiences with others
Conclusion

Since 89% of businesses are soon expected to compete mainly on customer experience, organizations that take customer experience seriously will stand out from the noise and win loyal customers over.
Have you tried using interactive content to boost client engagement?
We would love to hear your experience.